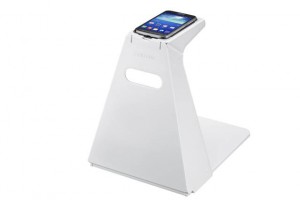 Samsung has added three new accessories for Galaxy smartphones to assist users with vision disability. The assistive accessories can be easily connected to Galaxy Core Advance devices. The products include the Ultrasonic Cover that can detect obstacles and navigate unfamiliar places by sending an alert through a vibration or text-to-speech feedback. Holding the cover in front of the user can enhance awareness of their surroundings by sensing the presence of a person or object up to two metres away.
The Optical Scan Stand (pictured) positions the device to focus on printed materials by automatically activating the optical scan application which recognises text from an image and reads it aloud. The Voice Label distinguishes objects by allowing users to make notes and tag voice labels on-the-go. NFC technology enables a seamless connection to smartphones for recording, stopping and accessing notes.
Samsung Electronics Australia told F2L it has no current plans to launch assistive technology products or solutions in Australia.
For more information visit: www.samsung.com