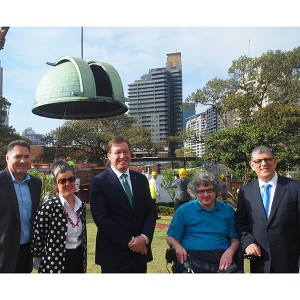 Sydney Observatory gets its most significant change in 50 years and accessibility is a major part of it. The installation of a lift to the heritage building will make it easier for people with disability to access the new East Dome allowing them to enjoy the wonders of astronomy like never before. Previously access to the telescopes was restricted to those who could climb the stairs.
The new East Dome, comprising a purpose built telescope dome and the third dome at Sydney Observatory has been specifically designed to accommodate people with limited mobility. The East Dome houses the original, fully restored, metal dome that was removed from the site in 1986, and the astrograph telescope that is used to map the Southern sky.
The East Dome also houses a new telescope featuring an articulated relay eyepiece that is adjustable to different heights when viewing the sky, and is the only telescope of its kind in the Southern Hemisphere.
The new building was opened by the Minister for Disability Services, John Ajaka who is pictured with from right, wheelchair consultant, Andrew James; Minister for Arts, Tony Grant; director Museum of Applied Arts & Sciences, Rose Hiscock and head of Asset Management, Danny Grant.
For more information visit: www.sydneyobservatory.com.au/