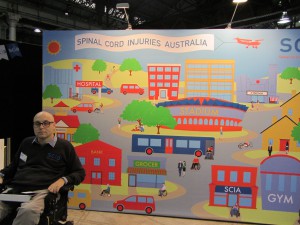 There was plenty to see at the Spinal Cord Injuries Australia Independence Expo held in Sydney on April 5. SCIA policy & advocacy officer, Tony Jones, pictured, said response from visitors to the expo was positive as many were unaware of the number of services available for people with spinal cord injuries. "So in terms of disseminating information the expo proved to be very helpful," he said. More than 400 people registered on the day and there were 56 exhibitors at the event which is held every two years.
Megalong Positioning Services (MPS) revealed its latest 3D scanning and robotics technology at the expo. Developed to produce a personal seating and positioning system, it involves making a 3D scan of the client's shape that is transferred into a digital file for the robot to cut out in foam to create the perfect 3D model.
This results in a much faster and more precise process, MPS manager, Wim Hartog, told F2L. "In theory, the insert can be produced and ready for trial or completed within 24 hours after the scan has been made. It is a very accurate way of producing customised equipment."   The robot is able to cut out the product to within 0.1mm accuracy of the digital scan.
Hartog said this will result in fewer trial periods with a reduction in costs and ultimately cheaper equipment. The scan can be done across Australia and New Zealand as the digital file can be sent by email to the MPS workshop where the robot is located.
Mark Kline from GTK Rehab said he was impressed with the questions being asked by prospective customers visiting the company's stand. "People are more informed about seating and mobility. They want to know how the product works, what it does and the benefits. As the number of people using wheelchairs increases you are going to see more advances in technologies attached to new seating systems."
As for the recent announcement regarding the decision by the NSW Staysafe Committee not to impose compulsory registration of motor scooters Kline's observation was that eventually the issue would have to be addressed as the number of people using scooters increases. "Scooters are brilliant for getting people out but my concern is visibility." His safety suggestions include securing a coloured flag to the scooter, users wearing bright clothing or attaching reflective tape to the vehicle to make it easier to see for pedestrians as well as drivers on the road.
Finally, for $28,000 the new Riddan 650cc Nippi might do it for those where "my way is the highway." A three-wheeled road vehicle featuring a stealth-like body shape it takes the wheelchair bound for a road trip like never before with speeds up to 160k. Fully automatic with an electronic back door for easy wheelchair access the machine comes with ABS brakes, optional power steering and a choice of colours.  But there is an eight month waiting list for the locally made vehicle, said manufacturer and designer, Danny Riley.  In case you were wondering, two visitors to the expo expressed a keen interest in buying one, he said.
For more information visit: www.scia.org.au