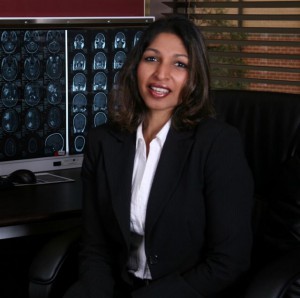 Neurosurgeon, Dr Brindha Shivalingham, is fronting a TV campaign to launch Brain Awareness Week. Her face will be familiar to TV viewers from recent appearances on Australian Story and her work at the RPA Hospital in Sydney. The national campaign, which is a first for the Brain Foundation,  has been developed to not just raise awareness of the more than 1000 diseases and disorders of the brain but to help raise funds for research.
The Foundation is also supporting the awareness undertaking with a display in Martin Place, Sydney, on March 11 and Queen Street Mall, Brisbane on March 13. TV personality, Todd Sampson will attend the Sydney event.  Sampson recently put his brain to the test in the documentary, Redesign My Brain.  
"In Australia over 50 per cent of death and disability is a result of brain and spine disorders and injuries," said Brain Foundation general secretary, Gerald Edmunds.
The Brain Foundation recently announced 18 new projects for 2013/14.  Brain Awareness Week runs from March 10-16.
In a separate activity, the Foundation has produced an Oz Calendar with the chance to win daily cash prizes including a major prize of $50,000 in a total prize pool valued at over $500,000. The calendar is available for $10, and $2 from each sale is donated to the Australian Paralympic Committee and the Brain Foundation. Simply purchase the calendar and register for free entry into the lottery.
Details: www.ozcalendarlottery.com.au