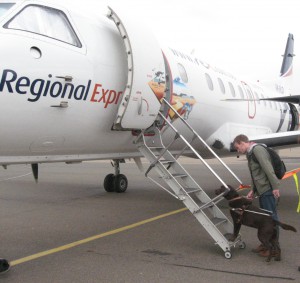 Guide Dogs NSW/ACT is inviting applications for its 2014 travel awards competition. This follows the success of the inaugural launch of the awards last year.
The competition is designed to encourage people with a vision condition to enter with the chance to win an independent travel experience. The 'Experience Unseen Travel Awards' offers five, $1000 travel bursaries. Applications close March 21 and winners will be announced on April 4, 2014.
Last year's award winner and Rio Paralympics hopeful, Jonathan Goerlach, said it gives those who are blind or vision impaired the opportunity "to do something they otherwise might only dream of doing."
By 2020, the number of people in NSW and ACT with a vision condition that cannot be corrected is expected to rise 20 per cent, to 120,000 including 40,000 who are blind.
Details: www.guidedogs.com.au/travelawards or call 02 9412 9300 for an application form