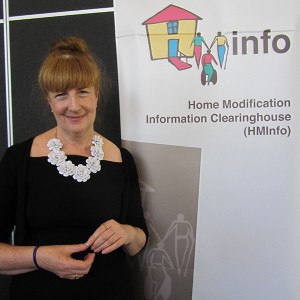 It was a full house with 500+ attendees attending the inaugural NSW Housing Innovation Showcase in Sydney. With the NDIS giving people with disability more accommodation options it was an opening for providers and organisations to speak about the diverse housing opportunities available in the community. One of the main messages to emerge from the event was the challenge in dealing with the individual approach within a group setting because of specific environmental and communication needs. Critical to this not just assisting people to live more independently but helping them make decisions, get a job, have a home and develop friendships.
Among the innovative housing projects was PaRA, a parent-assisted co-operative set up in Sydney. Founder, Steve Anthony had some advice for those in the audience considering such a model. "Location, consistency of staff and the support and involvement of local business and the community were vital," he said. He gave an example of this showing a video of staff from the local ANZ bank helping with gardening and painting.
Another speaker, Dr Catherine Bridge, Associate Professor, Faculty of The Built Environment, University of NSW, spoke to F2L about the growing importance of home modifications to support people who were either living with disability or were older. A recent study of this group (average age 72 years) who were recipients of home modifications produced some impressive results. "Home modification was associated with an average 42 per cent reduction in care-giving hours and an average 40 per cent increase in health-related quality of life levels," she said. The study also revealed that participants associated home modifications, with increases in safety and confidence, improved mobility at home, increased independence, a supported care-giving role, increased social participation and being able to return home from hospital." Sales for products like grabs rails and ramps are growing by 12 to 14% a year and the majority of the work being done is DIY and not coming from funded work. "We found that frequently, within the family or friend network there was a tradesperson who could carry out the work and like most things cost can be a big driver in these projects," Bridge said. The Faculty was recently given funding by the NSW Government to develop information to help people select the right products, how to install them and other available resources.
Melbourne will host the next Housing Innovation Showcase in mid to late May with speaker confirmation still to be confirmed. This event is expected to be even bigger than the Sydney show with a focus on local solutions to accommodate regional differences.
Caption: Dr Catherine Bridge