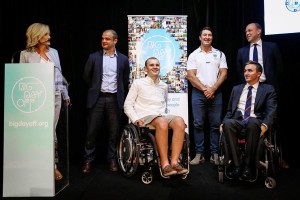 This annual fund raising initiative between business and employees supports Australians with spinal cord injury. It works like this: businesses sign up to offer an extra day or days off work and staff buy an entry in the draw to win a paid day off. All proceeds go to Spinal Cord Injuries Australia and SpinalCure Australia.
Some big sporting names have signed on as ambassadors including former Newcastle Knights player Alex Mckinnon who sustained quadriplegia in 2014. Speaking at the 2016 launch he said how important having the right support structure was and continues to be vital to his ongoing recovery, "but it all comes at a cost." Other ambassadors are jockey Damien Oliver, former Wallaby player Adam Freir and Network Ten presenter Sandra Sully.
Tickets are $5 each and those who cannot participate can make a one-time donation.
The competition closes at midnight on June 30, 2016.
To register and for more information visit: info@bigdayoff.org