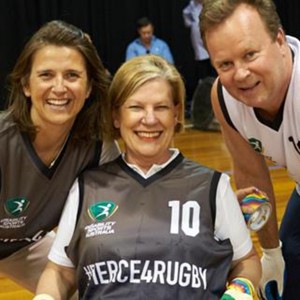 The Australian Rugby Union (ARU) has joined with Disability Sports Australia (DSA) to promote Wheelchair Rugby. The four-year collaboration to support Wheelchair Rugby at every level is a first in a football code partnership for DSA, CEO Jenni Cole told F2L, with the organisation looking at further collaborations. "We have been negotiating with the ARU for the past two years and are working closely with them in our bid to host the Wheelchair Rugby World Championships being held in Sydney in 2018. "We are also in the process of developing a coach accreditation program for Wheelchair Rugby which will be a world first."
As well as assisting DSA to bid for and deliver national and international events the ARU will work towards fostering programs and awareness for Wheelchair Rugby. According to Cole there are many people in the community unaware of the sport and the programs available.
"One of the most exciting aspects of Wheelchair Rugby is that it is a mixed sport so we want to get the message across that it is not just boys sport. We have a few juniors playing but we are trying to encourage younger kids to get involved so there is an opportunity to develop programs for young people as well. While male participation is high we would like to get more women playing too as it is the only team sport for women."
She added that the arrangement with the ARU was not a financial one. "It allows us to build public awareness of the sport and reach out to the Australian public in a way that we have not been able to do before, using ARU resources and experts as well as through promotions and social media."                                                                                                  
The 2016 Wheelchair Rugby championships will be held at Sydney Olympic Park, July 7 -9.
For more information visit: www.sports.org.au or www.fierce4rugby.com.au
Caption: DSA CEO Jenni Cole, ARU director Anne Sherry and ARU CEO Bill Pulver