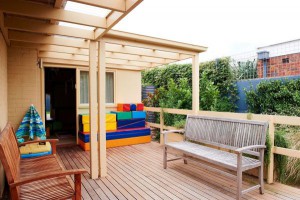 Jewish Care Victoria has launched a crowd-funding campaign for sensory rooms at its Disability Respite Centre. The aim of the 'Cents for Senses' campaign is to raise $21,530 for sensory equipment for the new centre in Caulfield that is scheduled to open in late October.
The centre will cater for children and adults with disability and their families, providing respite and outreach services. Amenities include separate sensory rooms for adults and children, kosher kitchens, playgrounds and private outdoor spaces.
CEO Bill Appleby said Jewish Care is using crowd-funding and social media because of its ability to spread the message far and wide. "With the help and engagement of the community, we will be able to provide our clients with the most up-to-date sensory room possible", he said. It follows an earlier campaign to fund the installation of a Liberty swing in the playground.  Donors can follow the progress of the project which runs until August 19, 2015.
For more information and to donate visit: www.chuffed.org/project/centsforsenses