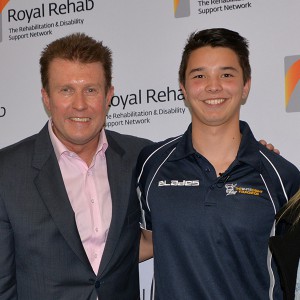 The Royal Rehab Wall of Fame is all about inspiration, courage and generosity. An annual event, it recognises former clients from the Brain Injury Unit who are invited to tell their story about the challenges and achievements on their road to recovery. Following the Wall of Fame presentation on August 14, the stories were framed and hung on the walls of the unit.
"Our clients have a wide range of goals, some want to be able to swallow again and others want to run marathons," Royal Rehab marketing co-ordinator, Martina Fox, told F2L. "However, they are not judged on their aspirations due to their varying grades of injuries." Fox said clients and visitors to the unit find reading these narratives uplifting "as they can see what transformations can happen."
Liam Knight, who spent three months at Royal Rehab after he was hit by an iron bar that pierced his skull, spoke about the accident from which he was not expected to recover, at the event. With his brother Shane, he has set up the White Knight Foundation to help other victims of violence. The foundation donated $10,000 towards new equipment for the unit.
Caption: Liam Knight with news presenter Peter Overton who was MC for the event.