The University of Sydney launched its Disability Inclusion Action Plan (DIAP) 2019-24 during Disability Inclusion Week. The new six-year plan aligns with core values of inclusion and diversity, and community expectations that people with disability are included in all areas of public life.
The plan is intended to strengthen the university commitment to protect staff, students and visitors with disability from discrimination and support all members of the community to succeed at the university.
Disability Discrimination Commissioner, Dr Ben Gauntlett (pictured) described the DIAP as more than a plan or a piece of legislation but a mindset where: "We normalise diversity and understand its benefits. Mindsets take time and effort to develop, whether positive or negative.
"The mindset we require going forward for people with disability in Australia is unashamedly positive but it requires a clear articulation of the benefits of diversity and inclusion and the critical role of people with disability in Australia. Our society requires that we practice inclusion in design, education, employment and engagement in the community."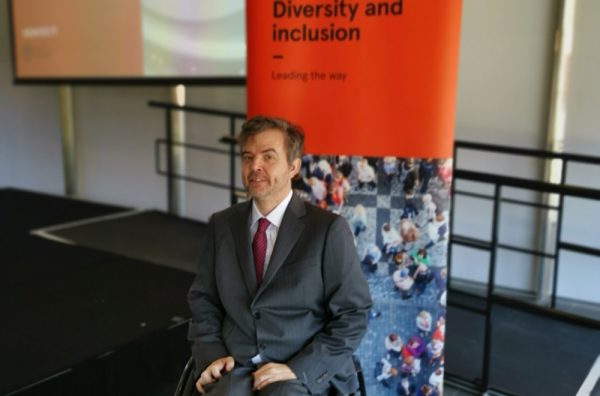 Speaking at the launch, Gauntlett said inclusion is more than just diversity or acknowledgement of disability rights that requires data and a clear implementation framework. A DIAP should, to the fullest extent, exclude any barriers to people with disability and address the significant underlying issues confronting people with disability.
He said in the past year 42 per cent of complaints received at the Human Rights Commission related to disability and discrimination, which suggests there is a need for education, awareness and social change.
"We need to understand the importance of not just having the policy but implementing it rigorously. In much like we would implement any other university study to influence social change. How it was implemented and how it was recorded is important. Good disability policy benefits all Australians".
Universities needed to be aware of the importance of good disability policy and make sure that people with disability in Australia are confident of who they are and the university experience for people with disability strongly facilitates this confidence, he said.
His role as Disability Discrimination Commissioner was to move the debate from "us" to "them". Us meaning people with disability and them are those without disability. "We need a disability policy that reflects our human rights obligations, because it makes good economic sense and reflects our values on diversity and inclusion. The clear integration of disability across all aspects of university environment can shape the thinking of a generation.
"In Australia, and in the university context, we need to normalise disability so that people feel comfortable in how they deal with disability throughout all aspects of their life. The DIAP is another step in achieving that outcome."
Also speaking at the launch was Sydney University vice-chancellor Dr Michael Spence who called for a united effort to implement the plan's objectives. "If we are to be a university in which the brightest researchers and the most promising students can thrive and realise their full potential, we must ensure that we provide a learning and working environment which is inclusive and accessible to all our students, staff and visitors." He urged the whole university community to commit to working towards the achievement of its objectives.
The 2019-24 plan has six key objectives with a program of actions and activities developed to identify and remove barriers to access and enable people with disability to fully participate at the university. This includes its learning, teaching, physical, digital, living and communication environments.
The six objectives are that the University of Sydney:
Incorporates the rights and opportunities of people with disability in all policies and planning
Is a higher education providers of choice for all students
Is an employer of choice for people with disability
Its communication and digital environment is accessible to everyone
Provides an accessible built environment to everyone
Provides leadership to the community in developing an inclusive Australian society.
The previous Disability Action Plan (2013-18) has been recognised as an example of best practice and used as a model for the development of the NSW Government's own plan.
Another speaker, lecturer in education and social work, Dr Sheelagh Daniels-Mayes, described the plan as: "Not only demonstrating the university's commitment to enacting change for access and inclusion but also giving people with disability a voice to have their human rights met. I know I can advocate for changes because without the plan my work success would be significantly compromised."
A Kamilaroi woman, who teaches and researches on culturally responsive education for Aboriginal students, she lost her eyesight at age seven.
Comment below to have your say on this story.
If you have a news story or tip-off, get in touch with Freedom2live's managing online editor Kymberly Martin at kymberly@intermedia.com.au 
Sign up to Freedom2Live's newsletter.