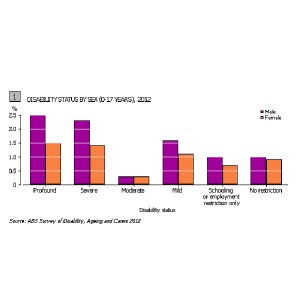 There has been a small increase in the number of children with disability according to the ABS.  While there is a tendency to associate disability with older people, in 2012 there were approximately 379,000 children with disability under the age of 18 years living in Australia.  This compares with 351,600 with disability in 2009.
According to the Australian Bureau of Statistics, children generally have lower rates of disability compared with older people. In 2012, seven per cent of all children aged 0-17 years had disability compared with 15 per cent of those aged 18-64 years and 53 per cent of those aged 65 years or over. This same pattern was observed across all states and territories.  Boys tended to have higher rates of disability than girls, and boys also tended to have more severe forms of disability.
While the developmental stages in a very young child is well known, it is possible that problems leading to disability are only noticed when a child's development varies from the 'norm.' An example of this was evident with intellectual disability more apparent in 5-17 years olds than it was in infants. Primary school aged children were also more likely than infants to have psychological disability.
ABS data shows that there is a strong culture of participation and achievement in recreation, exercise and sport – 65 per cent of all children with disability aged 5-17 years, were involved in physical activities for recreation and exercise purposes, while 57 per cent had been involved in sport.
For more information visit: http://www.abs.gov.au