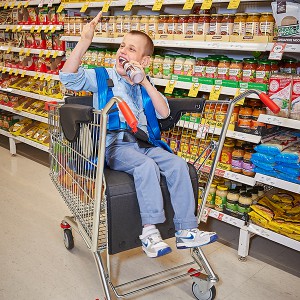 Taking a child with disability shopping in a Coles supermarket is now easier thanks to a special trolley. More than 370 Coles supermarkets around the country have these specially-designed trolleys available on request from customers. The trolley allows for a child of up to 70k in weight. It features side padding, harness and additional support as required.
Coles spent two years researching the product which is manufactured by a Queensland company, QHDC Australia.
Coles operations and supply chain director, Andy Coleman, said he hoped the trolley would help make shopping easier for parents or carers who have a child with disability.
"This is the most significant roll-out of an additional needs trolley by a supermarket in Australia. Groceries can be placed in the trolley while also having the child safely seated." He said Coles can provide the additional needs trolley to any Coles store requesting one on behalf of their customers.