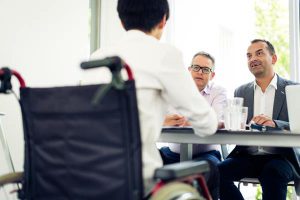 Due to popular demand it's round two for NDIS sessions from Spinal Cord Injuries Australia in NSW. And in Queensland, Disability Loop have organised two workshops. The SCIA pre-planning sessions have been designed to help those with spinal cord injury entering the National Disability Insurance Scheme get the best packages for their needs. For people who may think they are not eligible, including those who have received compensation or are over 65 years of age, are also invited to attend for guidance on support they can receive. The sessions cover a wide range of issues from transport needs and services to equipment and plan-management. The sessions are free and are being held in Sydney and selected NSW regional areas. Locations and dates are:
July 31, Gosford – The Erina Centre, Central Coast
July 26 – Bankstown PCYC, Sydney
July 28 – Campbelltown RSL, Western Sydney
The Disability Loop workshops in Brisbane have been split in two: The NDIS Understanding workshops are for Brisbane based staff and volunteer trainers from community and advocacy organisations who work directly with people with disability and their families. The six, half-day workshops are being held over three days: July 26, 27 and 28.
The NDIS Opportunities workshops have been developed to resource and assist small community organisations and are recommended for CEOs, senior managers and Board members, to help build the capacity of their organisations. The four, half-day workshops will be held on July 26-27.
For more information on the SCIA sessions email: office@scia.org.au or PH: 1800 819 775
For more information on the Disability Loop workshops visit: www.disabilityloop.org.au