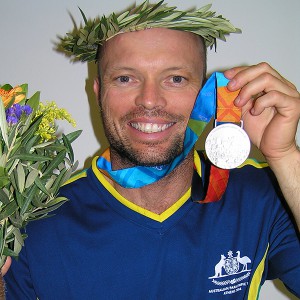 David Hall is a Paralympic Gold Medallist and former world number one tennis player. His 19 Super Series Singles Titles are the most recorded by any player on the international tour circuit.
The most challenging thing about your life? 
I think the accessibility issue is on-going in this country unfortunately.  The fact that some post offices, train stations, newly built movie theatres, restaurants, etc. are not wheelchair accessible is in my mind unacceptable in 2014.  Normally there is a solution in just going to another venue but it's just a pain in the 'you know what' in general.
Are there any areas of rehabilitation you believe are not being met?
I think all areas of rehabilitation could be improved across all areas, city and country. As per usual funding is the big issue.  The players in the field such as Royal Rehab, Forsight and Handital are doing a wonderful job with their resources but as we all know disability will always be with us in some form or another.  Issues such as the transition back into society after injury, research into new techniques of rehab or more support for carers can always do with more support. The smart implantation and full support of the NDIS could help a great deal.
Which living person would you most like to meet and why?
I'm no big conspiracy theorist but I'd like to meet the director of the CIA.  I watch the history channel sometimes and they have those JFK assassination shows on.  I want to find out what the CIA knows (as if they'd tell me).  Also, I want to ask him about aliens and the Roswell UFO incident.
Do you have a favourite charity? Ambassadorships?
Yes, I do some ambassador work for Royal Rehab, Forsight Foundation and Handital NSW, which I enjoy very much.  All organisations are important to the community and do wonderful work in their respective fields.
What makes you laugh?
I watched Blazing Saddles the other night on cable.  I haven't seen it for years and I thought it was hilarious.  Gene Wilder is a hoot.
In your spare time you love to…?
Drive my 66 Mustang, try new restaurants and explore good coffee.
What is your most treasured possession?
I'm a big fan of the NFL and years ago I bought a Denver Broncos John Elway jersey the year they won the Super Bowl.  I love that jersey.
The next big thing in your life will be…?
Continuing to spread the word about www.letsrollwheelchairtennis.com – a website that my former coach Rich Berman and I created recently to give coaches and players easy, free access to tutorials regarding learning and improving the way wheelchair tennis is coached and played.  We think sharing our knowledge from years of experience is worthwhile to anyone in all corners of the globe who want to improve their tennis.