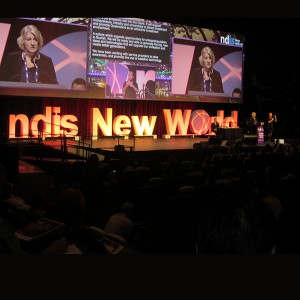 The impact and influence of the NDIS presents a major global opportunity in technology innovation. How this will be achieved was outlined in an ambitious speech by National Disability Insurance Agency, chairman, Bruce Bonyhady, at the inaugural NDIS New World Disability in the 21st Century conference in Brisbane.
Technology has a leading role to play in the implementation of the NDIS, not just in the run-up to the full scheme in 2019 but in the decades that follow, he told conference delegates. But the NDIS is also a platform for innovation, creating a $1 billion market for a technology revolution in disability services.
"The NDIA wants to create an enabling environment which encourages innovation and new entrants, as well as established players," Bonyhady said. But if companies want to win a share of this market, they will need to be competitive and in his words: "think national and act local." And some of the competitors and enablers will be global, because the NDIS is a major global opportunity.
Bonyhady acknowledged the presence of IBM, Apple, Microsoft and Google at the conference who he said are considering incubating accessibility ideas in Australia as a direct result of the NDIS. He believes the better technology is used, the better the NDIS will be, adding that traditionally the cost of disability services has been undertaken with a short-to-medium term outlook. "The insurance model of disability and its approach to technology are radically different."
One of the innovations put forward was the creation of an e-market with the full roll-out of the NBN in 2020 that aligns closely with the NDIS completion to a full scheme. "When the NBN is complete, access to the internet will be close to Australia-wide and this will help to underpin the Agency's rural and remote strategy." Technology will also help participants become more informed consumers with new apps being developed and more to follow. As a result, Bonyhady predicts the technology market generated by the NDIS will be much larger than $1 billion.
"Some new technologies will be developed as part of mainstream responses as companies seek to broaden their customer bases to include those with impairments. Technology developed primarily for people who do not have disabilities will have particular benefits for those with disability an example being text-to-voice and voice-to-text software."
SPEAKING PERSONALLY…Another keynote speaker at the conference was Australian Disability Organisations, CEO Matthew Wright. In his keynote address he demonstrated how technology had changed his life.
"I am standing here before you with my state-of-the-art hearing aid that amplifies all sound via remote control and my vibrating watch that alerts me to all calls and messages. I could not function without these devices that make it possible for me to work and be part of the world," he told a packed hall.
Wright said technology advances and accessibility have been happening incrementally, and in some cases almost by accident, for people with disability. The attendance at the conference by IT companies and pioneers, he noted, was testament to this changing landscape.
He questioned why companies would not be moving into the space when $1 billion of the $22 billion allocated for the NDIS would be spent on life-changing equipment for the sector. Assistive technology was proving to be lifesaving equipment for those with disability, Wright said. "For the first time the introduction of the NDIS is helping people with disability become customers of technology on a mass scale and not an afterthought. And, for the first time, modern technology is also eliminating the way disability impedes a person's life. You won't be screened out of interviews for many internet based jobs by past prejudices and out dated assumptions where you can perform the role.
"To take hold of this exciting future we must learn from what did not work in the past and separate the hurtful and wrong assumptions held in the community that we had no value and nothing to offer. Thanks to the NDIS we can be the leading edge not the last to know, connected and online and not left out. It is a bright new future and we cannot wait to get started."
NOW IS THE TIME…Queensland Minister for Disability Services, Coralee O'Rourke also spoke at the conference about how the role of technology in the NDIS was delivering both social and economic independence for people with disability. "There is no better time to be talking about the future of the people with disability than now following the recent announcement that Northern Queensland will get an early roll out of the NDIS." The minister said the early launch will allow the government to look at technology solutions to support service delivery, communication and engagement particularly for people in rural and remote locations.
"If you think about the pace of development in technology across all aspects of life the possibility of technology to improve the lives of people with disability are endless. In advance of the introduction of the NDIS the government has been working with service providers to promote the use of assistive technologies particularly in the disability sector through the Community Care Program where it has funded organisations to trial smart technologies with clients. State wide information sessions have also been set up for people with disability, their families and service providers to advise them on what technologies are available. Another community care program brought service providers and people with disability together in an online environment to   share their experiences of new and emerging technologies.   It provided a platform for people with disability to communicate with experts, share their knowledge and experience and collaborate with others on social media.
Also embracing technology is a housing project that assists elderly parents secure long time living arrangements for their adult sons and daughters when they are no longer able to care for them. Use of assistive technologies such as lighting and temperature control activated by smartphones and other remote devices to assist people to live more independently is a key focus of the elderly parent and carer initiative.
More than 1200 delegates attended the three day conference together with 100 plus exhibitors that included Apple and Microsoft Australia.