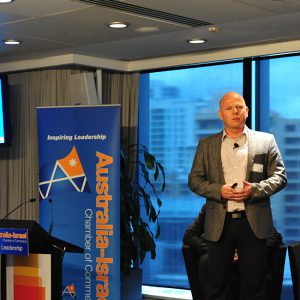 The Australia-Israel Chamber of Commerce hosts assistive technology trade mission in Sydney. The mission was led by PresenTense, a leading Israeli innovation organisation headed by Australian Guy Spigelman, who founded A3i, the first accelerator to focus on innovation solutions for people with disability.
 At a special press briefing delegates introduced the world's first touch-free smartphone for people with disability, a device to help those with speech disorders, and an organisation that enables people with limited disability access the outdoors. 
Sesame Enable developed the touch-free smartphone for people who have limited or no use of their hands. The computer vision technology harnesses a standard front-facing camera with advanced computer vision algorithms to create a cursor on the phone screen.  The on-screen curser is controlled by the position and movements of the users head that gives them control on all features of the device normally operated using a finger – such as touch, swipe, browse, play, download and more. Voice control is integrated to provide a hands-free experience for accessing the device. Saying 'Open Sesame' gets the phone started.   Vice-president of product and development, Rowee Benbenishty said the company is a leading innovator in this untapped accessibility space.
Dr Yair Shapira's inspiration for NiNiSpeech came from his son who stutters.  The technology offers people who stutter a safe platform to take control over their speech by engaging in speech activities via interaction with speech therapists.  After selecting from a variety of entertaining and fun speech programs, it gives meaningful feedback and goals are awarded on progress. According to Shapira, (pictured) NiNiSpeech incorporates the only automatic technology for stuttering detection, classification and measurement.  He told F2L the next step will be to extend the technology to other speech disorders, such as those caused by brain injury or stroke. Approximately 10 per cent of the population suffer from speech impediments. "People who stutter often seek help with speech language pathologists or other professionals, or make use of self-help. Though treatment is often successful in the short term, 84 per cent suffer relapse in the longer term," he said. "Using unique technologies, NiNiSpeech boosts clinical outcomes and enables affordable and accessible therapy and we are currently undertaking pilots with leading clinics worldwide. Our plans are to introduce NiNiSpeech in Australia when we confirm business partners." 
Paratrek that gives people with limited mobility access the outdoors expects to have the experience  operating in Australia next year, co-founder Ziv Demeter, told F2L.  The company, which recently co-led a delegation of people with disability to the summit of Mt Kilimanjaro, developed and also builds Trekkers compatible wheelchairs.  What sets the wheelchairs apart is the stability and comfort "that gives confidence to those inside", he said. "We operate in extreme sports activities that integrate people with and without limited mobility."
Mission sponsor Celestino also announced details of the Sydney Science Park, a $5 billion project that will be the largest centre for R&D and innovation in Australia, clustering together leading innovators in industry, education and business. When fully developed it will create more than 12,000 knowledge based jobs and cater to over 10,000 students.