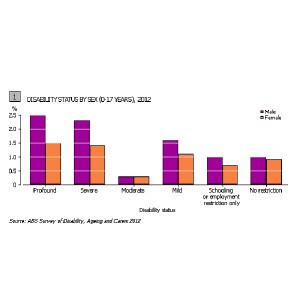 Just under one in five people or 18.5 per cent of Australians reported having a disability in 2012, according to the ABS.  These figures show that disability prevalence has remained steady since the last survey was conducted in 2009. A further 21 per cent reported having a long-term health condition that did not restrict their everyday activities while the remaining 60 per cent of the population did not have a disability or long-term health condition. However, the majority of those with disability, 88 per cent, reported having a specific limitation or restriction.
When it comes to long-term health conditions, 19 per cent of people with disability said having a mental or behavioural disorder caused them the most problems with the type of condition varying with age.
A child was most likely to have an intellectual and development disorder (38 per cent) or asthma (6.3 per cent)
Those of working age most likely reported back problems (19 per cent), disease of the nervous system (8.8 per cent) or mood affective disorder such as depression (6 per cent)
Older people were likely to have arthritis and related disorders (21 per cent) or a disease of the circulatory system such as heart disease, stroke or high blood pressure (13 per cent)
Overall, there continues to be a smaller proportion of males with disability than females and this was most pronounced in older age groups. There was a severe or profound core activity limitation with 40 per cent for females compared to 26 per cent for males, aged 75 years and over. However, in the 5 to 14 years age group, more boys, 11.2 per cent than girls, 6.2 per cent, had disability.
As for disability prevalence across states and territories, Tasmania has the highest with 25 per cent of the population living with disability and  55 per cent of those aged 65 years and over with disability. This compares to Western Australia and the ACT each with 16 per cent of the population and 12 per cent in the Northern Territory living with disability.
There were no surprises when it comes to disability assistance. Of the 2.4 million people living with disability in households, assistance was most likely to be needed with health care and property maintenance and less for communication or meal preparation.
For more information visit: http://www.abs.gov.au