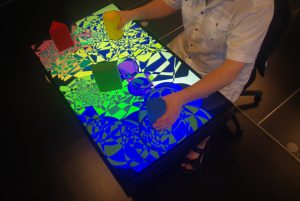 A suite of creative games to help those recovering from acquired brain injury wins design award. Elements is an interactive artwork to support movement assessment and rehabilitation for patients. Patients use hand-held objects to play games, compose music and create animated artwork to enhance motor and cognitive skills using an intuitive tabletop workspace. Elements was developed by rehabilitative technology laboratory, Ci-ART.
The system won for Service Design in the Games Design and Animation category at the Good Design Awards that recognises excellence in design and innovation at a national and international level. The annual awards ceremony was held in Sydney recently.
A previous winner in the Service Design category, the Reach & Match education kit for children with vision impairment, has been approved as an NDIS provider. The kit is a fun and friendly platform to help develop braille literacy and essential functional skills.