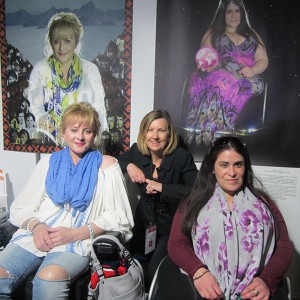 The first Arts + Disability Expo has been hailed a success by organisers, exhibitors and visitors alike. "The whole idea of the expo was for people with disability, who are interested in the arts, to come and see what is available," Accessible Arts CEO, Sancha Donald, told F2L. And there was plenty to check out. Over 1000 people attended the two day event which was held at Carriageworks in Sydney. Donald said the event will definitely be held every two years with organisers currently exploring the possibility of running the event annually. "The diversity of the programs and services for people with disability is wide reaching and an event like this gives them the opportunity to learn and know their choices around creative programs. It also gives those running these services the chance to speak directly to people with disability," she said.
Among the more than 30 exhibitors were art organisations including the Art Gallery of NSW, Museum of Contemporary Art Australia and the Sydney Opera House along with disability services and a number of cultural and recreational activities integrated with local and regional councils.
One of the most eye-catching displays came from Royal Rehab Imagine Me, a photo workshop for people with spinal cord injury keen to learn some digital photo techniques. Imagine Me creative producer Sue Murray said the idea behind the digital project brings out the inner artist by using Photoshop to create a self-portrait that tells a story about themselves. The workshop runs in 10 rural communities in NSW and has been so popular is likely to be expanded into other states. An exhibition of works will be held at Casula Powerhouse Arts Centre in November. The next workshop, which is free, will be held at the Casula Powerhouse in December. For more information visit: www.imagineme.com.au
If community radio is of interest Making Airwaves operates 8-week courses, five times a year. Mentor Stven Cooke will help you build up your radio skills where participants can share their opinions, personal experiences, discuss music and issues. Programs are streamed live and broadcast on FM 89.7. For details visit: makingairwaves@windgap.org.au or PH: 02 8337 3600.
The Art Gallery of NSW has an extensive range of programs that includes Signing Art for people who are hearing impaired which is held on the last Sunday of each month; In Touch and Audio are description tours for the blind or vision impaired; Starting with Art is a school based program for children with mild to moderate disability. For people with disability and their carers there are community access workshops associated with temporary exhibitions and Art & Dementia, a structured program that offers opportunities for self-expression. Most programs are free, except for those associated with temporary exhibitions, and are tailored for small groups. For more information PH: 1800 679 278.
The Museum of Contemporary Art runs a series of MCA Learning programs that includes combined excursions in association with the Sydney Opera House for adults and children with special needs. The full day program is free. There are also free art making programs offering adults and students with special needs the chance to join MCA artist educators for practical sessions in the creative and digital studios. For more information visit learning@mca.com.au or PH: 02 9245 2400.
Caption: Sue Nedelkovska, Sue Murray and Pauline David at Imagine Me