The just concluded ATSA Sydney Expo is the show to visit when it comes to new products, services and technologies for the disability sector. Among the highlights was a disability online shop front, the world's lightest wheelchair, a sensor pad for monitoring seating functions, a three-wheeled trike, a back support with an adjustable three-piece shell and a security seat belt.
Bcause is a new one-stop-shop for disability products. An initiative of the Bendigo Bank it was described as "like an E-bay or Amazon for disability services," marketing manager Tanya Twaits said. Providers have their own shopfront on the website and all products are displayed together, from pharmacy lines through to big ticket items like wheelchairs and scooters. The site is promoted on Facebook and Google, in bank branches and through the banks website.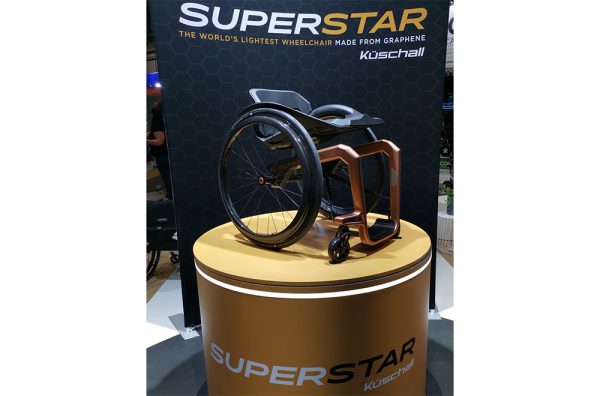 It was hard to miss this prototype on the Invacare display – the world's lightest wheelchair the Kuschall Superstar, a first to be built with graphene. This aerospace material is said to make the wheelchair 30 per cent lighter and 20 per cent stronger than carbon wheelchairs. Developed to enhance direct drive it places users in an optimal position, increasing propelling performance, helping reduce risk to upper body injuries. It boasts a frame weight of less than 1.5kg. Formula 1 car technology went into the design. Release date is 2020.
Pride Mobility showed the I-GO Fold, the next generation Jazzy Air power wheelchair. This prototype folds at the touch of a button and incorporates a scissor mechanism, unlike the original model which was built-in, marketing manager Liam Calvert said. It also features an enhanced footboard and LED strip lighting. No release date yet.
Dejay Medical made taking to the road easier with its new Race Runner three-wheeled trike, pictured, which assists people with impaired balance, irrespective of age, move and run in a balanced way without a wheelchair, walker or similar device. The trike also supports the rider with saddle and chest support.
On debut from Now Technologies was the Gyroset Glory & Link wheelchair head control, that, as well as controlling the direction of the wheelchair, can be used as a communication device with a Bluetooth mouse. Compatible with Mac, PCs and Android the device is currently being trialed through disability groups.
Also getting attention at the expo was the Windsor walk-in baths. Easy to install and move, in two models, walk-in and sit-down. Made from fibre glass the baths can be fitted, for example, into a laundry area if space is limited, available in small – shower space size, medium and large.
Medifab displayed a prototype of the Spex Tri-Section Back Support. This features a horizontally hinged three-piece shell, allowing the back support to conform to the shape required for the user. This product is poised for release later this year.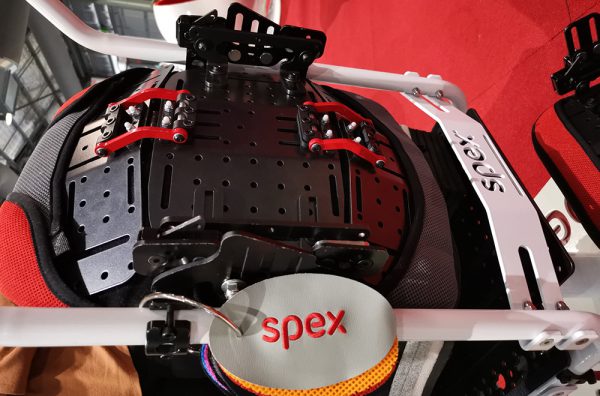 The latest in car seat belts from Stayput addresses the problematic issue of unbuckling and 'submarining'. It is driver/carer controlled, un-buckling at the push of a button. In the event of an accident, or when the vehicle is turned off, the system defaults to its normal safety belt function and can be unbuckled like any other safety belt. Easy to install, it does not interfere with existing seat belt systems and can be transferred to another vehicle.
The versatile HY5 walker from Medix21 doubles as an attendant use shower, lavatory or transfer chair. It can also be used as a bedside commode and folds down for portable travel. Accessories include a seat belt, front wheel castors and carry bag.
R82 showed off its versatile Flamingo High-low hygiene bathing chair for babies that can be used as a bath or lavatory seat and shower chair. Upgraded with new blue upholstery it allows for postural, head and side support, is height adjustable and fitted with four lockable casters.
Two locally developed products riding on export potential were the loop+ sensor pad and the LusioMate wearable gaming device. The loop+ from LoopPlus is placed under the wheelchair cushion and monitors seated pressure, position, movement and humidity with information sent back to the user via an app. The pad is being trialed through hospitals and clinics and will be launched to consumers in September, company officer, Clare Conroy said.
The LusioMate from LusioRehab helps motivates people with their physical therapy in an engaging way while playing from a wide selection of games created by the company for all age groups. The device can be fitted to most areas of the body and clinicians can monitor client progress from anywhere.  One of the team creators, Ben Dalton told F2L the company's goal is to help 10,000 people by 2023, find 'freedom through movement'.
A new company was launched at the expo, 24 Hour Positioning that offers a range of therapy solutions for people with complex seating and sleeping needs. The company also provides an occupational therapist service for appropriate assistive technology, either commercial or custom made.
And congratulations to Magic Mobility, as it celebrates 25 years as an Australian manufacturer of off-road wheelchairs with new livery on its Extreme X8 models, the go-to companion for those who like outdoor adventures.
The ATSA awards were also announced. The award for the Best Large Stand was presented to Invacare while 24 Hour Positioning took out the award for Best Small Stand. Permobil won for Best Marketing Campaign and the Most Popular Presenter went to occupational therapist, Joshua Selvadurai, for his talk on assistive technologies. The awards criteria were based on overall communication, engagement and product presentation.