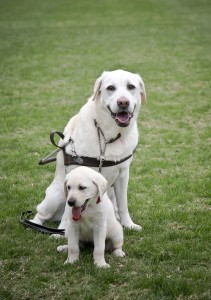 When it comes to the most trusted charity Guide Dogs Australia took out the top spot, ahead of the Australian Red Cross, the  RSPCA and The Salvation Army in the 2013 Reader's Digest most trusted brands survey of 3000 Australians.  In the most trusted brands poll, Guide Dogs Australia came in at number six, behind Dettol, Band-Aid, Panadol, Dulux and Colgate.
This is the first time Guide Dogs Australia has been voted into the overall  'trusted brands' category, said Dr Graeme White CEO for Guide Dogs   Australia NSW/ACT. "We were surprised to receive these awards and found it very inspiring to be held in such trust by the community."
On average 150 guide dogs graduate each year and each cost about $30,000 to train. There is no government funding and the charity relies on public donations to support this program. About 650 people in the community use guide dogs and Dr White said these numbers are expected to grow to around 3000 in the next decade, due to an ageing population.
The number of vision impaired and those who will go blind is expected to increase by 20 per cent by 2020, he added. "Vision is an issue of prominence as people get older and disease factors like diabetes become more common." Dr White said 75 per cent of cases of vision loss can be stopped or cured but many go undetected as the waiting list in public hospitals is the longest in the health system as well as being the lowest funded.