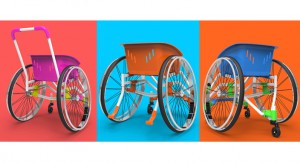 A paediatric wheelchair and a waterproof hearing device were winners at the 2015 Good Design Awards. The Spin Free wheelchair that grows with the child took out a Hills Young Designer of the Year Award for the sustainability category.  Growth adaptability was a large factor in this project that meets growth patterns between the ages of six to 15 years.
Spin Free designer Dean Lopriore from RMIT University said currently a child's wheelchair has to be replaced at least once between these ages as the child outgrows the chair. The wheelchair size is determined by the width of the seat and footboard which can be easily replaced and each main component modified to accommodate the growing child. "Once the child outgrows a certain area, adjustments are made or parts substituted with larger ones," Lopriore said. As well as adapting to physical growth, the project also sets out to address the changing emotions of children as they get older. This was done through individual customisation of the 3D printed components that can change the look of the wheelchair by providing a range of options for a child to select.
A Good Design Award  in the medical and scientific category went to Cochlear for its Nucleus Aqua+. This accessory transforms the Cochlear Nucleus 6 Sound Processor into the only waterproof behind-the-ear product for the cochlear implant market. A finalist in this category was the 'self-fit' IHearYou hearing aid system that lets people with hearing difficulties manage their own hearing without relying on an audiologist, using a Bluetooth enabled programmer.
For more information visit: www.good-design.com/entries/