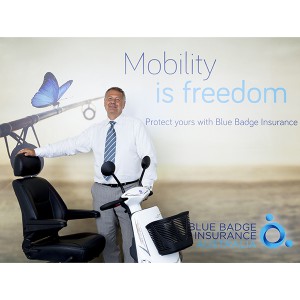 For the first time owners of motorised mobility devices can take out a comprehensive standalone insurance policy. The new insurance option is available from Blue Badge Insurance Australia and offers comprehensive insurance for both mobility scooters and electric wheelchairs.
According to the Blue Badge Mobility Scooter Safety and Insurance Survey one-quarter of mobility scooter users have had an accident using their scooter and nearly half of all owners are without any insurance.
Blue Badge Insurance is the first provider in Australia to offer comprehensive insurance products designed specifically for those who rely on mobility devices. And it comes as the number of mobility scooters on our footpaths climbs rapidly, driven by Australia's ageing population.
There are currently 120,000 mobility scooter users in Australia, with numbers growing at around nine per cent annually and this is expected to reach 280,000 within 10 years.
The survey also revealed that the top three concerns for users are cars reversing out of driveways (33 per cent), poor footpath infrastructure (31 per cent) and crossing the road (31 per cent); with 38 per cent of respondents saying that they have a near accident/collision at least once a year.
Yet despite these concerns, the prevalence of accidents, near misses and growing numbers, very few mobility scooter owners are comprehensively insured, according to Blue Badge Insurance CEO, Nikolas Witcombe.
"Our research indicates that over 46 per cent of current mobility scooter users in Australia are not insured at all and many of the people who believed they are covered by their home and contents insurance could in fact be underinsured.
"Some home and contents policies may not cover mobility scooters when outside the home, so we would urge everyone to check if they are comprehensively covered," Witcombe told F2L.
"Our product safeguards users against the costs associated with mobility scooter accidents and mishaps, protecting their source of freedom and making sure they are back up and running as quickly as possible," he said.
Blue Badge Insurance is working with retailers to educate them about their insurance products. Retailers are also being invited to join the company's Approved Distributors network to promote the products at point-of-sale. Brochures and other sales collateral are available too.
Equipment is covered for theft and accidental damage as well as for third party liability and overseas cover. It also covers any legal user authorised to use the device by the policy holder, and if the policy holder also has a manual wheelchair, it is automatically covered under the policy. Those taking out a policy have the option to join Blue Badge Community, an online service that also gives premium members access to discounts and special offers. Blue Badge products are 100 per cent underwritten by Lloyds.
Safety tips for mobility scooter users*:
Stay visible – it is important to consider safety equipment including flags, lights and reflectors
Watch out for vehicles leaving and entering driveways – don't assume the driver has seen you
Stay on footpaths. Only ride on the road if there is no footpath and ensure you can be clearly seen
Cross roads at pedestrian crossings where possible and wait for the green light!
Don't block pedestrian access when parking a mobility scooter
Adjust driving to conditions and avoid steep slopes
Make turns slowly and approach ramps and kerbs head-on
Keep the scooter load down – don't take too many parcels on board
* These safety tips are not a substitute for specific professional advice and product training. Blue Badge Insurance recommends that you always speak to a health professional and personally try out mobility products to ensure suitability before purchasing.
For more information visit: www.bluebadgeinsurance.com.au or www.bluebadgecommunity.com.au