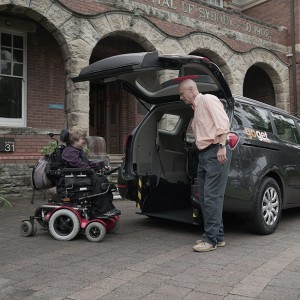 In a world-first, GoGet has introduced a car share initiative that accommodates ride-on wheelchairs. Initially the pilot service will be available from Sydney's Royal North Shore Hospital, where the car is based. Depending on the success of the offering there are plans to increase the number of cars in Sydney to at least 20, as well as roll out the service nationally.
GoGet offers different levels of membership and the cost for the wheelchair accessible car is $8.35 per hour, GoGet head of communications, Jonathan Englert told F2L. All plans include petrol, insurance, dedicated parking, maintenance and cleaning with no hourly charge between midnight and 6am. He said the eight-seater Kia Carnival is equipped to carry a range of wheelchairs and the affordability of the service will go a long way towards solving a major transport problem for many people with disability.
"We are looking to bringing sponsors on board and get the message out to the community that this wheelchair-friendly car option is available," Englert said. Spinal Cord Injuries Australia supported GoGet with the project.
GoGet has 80,000 members and operates 2100 vehicles nationally through capital city networks in Melbourne, Brisbane, Adelaide and now Canberra.
For more information visit: www.goget.com.au
Caption: Peter Hojgaard-Olsen initially approached GoGet in his quest to find a practical and affordable transport solution for his son, Philip, who has muscular dystrophy.