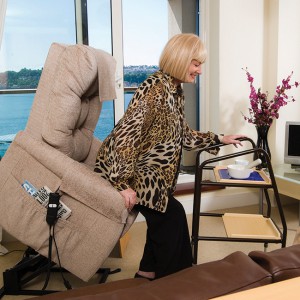 The ATSA Independent Living Expo, the premier event for the disability community, goes to Melbourne soon. This must-visit event brings assistive technologies, mobility solutions, home care aids, equipment, allied services and more together under one roof. It will be held at the Melbourne Showgrounds May 18-19. With over 130 exhibitors showcasing the latest products from local and international suppliers, the event is the ideal platform for visitors to engage with experts in their field.
As the leading event on the Assistive Technology calendar it gives occupational therapists, carers, families and others involved in the healthcare, community care and services industry the opportunity to meet suppliers, visit exhibits and attend the free clinical programs presented by speakers from Australia and overseas.   These educational sessions will cover in-depth information and insights on major healthcare developments happening in the sector. Joining the ATSA speaker circuit for the first time is Peter Short, a specialist from Canada on patient handling who will talk about the importance of regular repositioning for immobile patients. Another first time speaker featuring in the seminar program is Stewart Andrews, a consultant in Low Vision whose presentation will examine the different technologies that can assist people to live independently. Also making their ATSA debut is Andrea Espei, an occupation therapist and lecturer from Germany who specialises in Sensory Integration therapy in early intervention, kindergarten and rehabilitation. All you wanted to know about restorative bracing for elderly patients will be addressed by New Zealand speaker, Amanda Hebben.
Among the squadron of new products, devices and equipment is The Book Seat that allows people to relax and read in hands-free comfort for extended periods. Another is Sock Aid, a unique cordless system for anyone with mobility problems that allows them to easily put socks on and take them off. The company is also introducing a new range of speciality clothing at the expo. Family-owned Revitalife will demonstrate its therapeutic sleep systems and therapeutic recliner chairs at the show.
Another Australian company, Bidets2go has some affordable electronic bidet toilet seats and manual under-toilet seat bidet attachments while visitors to the Promedicare Inserto stand can preview a range of specialist seating that allows therapists to customise seating on the spot. At the MPS stand attendees will get the chance to view the Vicair 02, the first full machine washable wheelchair cushion. Country Care will demonstrate a host of living aids designed to make those day-to-day challenges easier.
There is also a unique innovation in shower/wet room technology from New Zealand group airBody Dryer that utilises jets of warm air to gently dry the body. If it is fresh meals that peak your interest, Choice Fresh Meals, who have been delivering to customers in Melbourne, Geelong, Mornington and Bellarine Peninsulas for the past 20 years offer diabetic friendly options and minimum orders of three meals. Finally, Tab Timer has the MemRabel 2, its latest audio visual alarm clock that comes with over 100 pre-installed audio, image and video files for typical reminder events.
The Expo is free to attend, although is it necessary to pre-register for the clinical programs. The venue offers free parking and free wheelchair accessible shuttle from New Market station.
To register visit: www.atsaindependentlivingexpo.com.au or call 1300 789 845