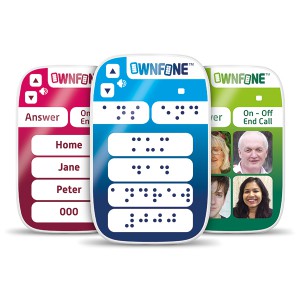 The first Braille mobile phone for people with vision disabilities is now available in Australia. Launched by UK based telecommunications company, OwnFone, the phone uses  3D printing technology  to produce the large Braille buttons making it much more user-friendly than a touchscreen device for people who are blind or have low vision.
The phone can be easily customised with up to three pre-programmed contact names which are converted into Braille and printed onto the front of the phone, said OwnFone Australia director, Brad Scoble. "This is the first commercially available Braille mobile with a starting price of $89 and call plans from $2.35 a week."
It features easy one-button dialing with the triple 000 emergency number included as an option and comes in a range of colours and designs. It will be launched in New Zealand later this year.
For more information visit: support@ownfone.com.au