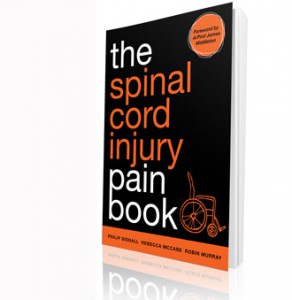 This book covers all aspects of chronic pain that affects two out of three people with spinal cord injury. More than 10,000 people live with SCI in Australia and one person sustains a SCI every day.
The Spinal Cord Injury Pain Book presents the latest research on pain, the challenges facing those with the injury, strategies to deal with pain including medication and new technology as well as exercise, relaxation and medication options.  It also has personal stories from people living with SCI pain. All this advice and information is presented in an easy to read format with numerous illustrations.
Contributors include Philip Siddall, professor in pain medicine at the University of Sydney, physiotherapists Rebecca McCabe and Lyndall Katte and clinical psychologists Dr Robin Murray and Associate Professor Kathryn Nicholson Perry.
The book is published by HammondCare Media and costs $29.95. For more information and to order go to: http://www.hammond.com.au/shop/pain-management/the-spinal-cord-injury-pain-book