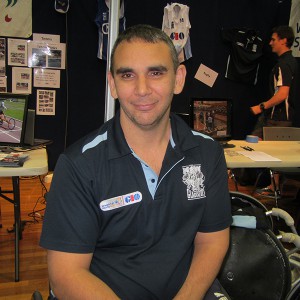 What are the big retailers doing to give people with disability the opportunity to enter the workforce? F2L spoke to several leading retail groups about the role those with disability have in their organisations, their policies and strategies for the future. Retail is the largest private employer in Australia.
According to Australian Retailers Association executive director, Russell Zimmerman, Australian retailers need to keep an open mind when considering employing a person with disability. "It costs no more to put on an employee with disability than one without disability," Zimmerman said.
He believed one positive way to improve employment outcomes for those with disability was by linking local communities with employers. "As the peak industry body for the private retail sector we are trying to encourage more employers to take on people with disability. We speak to employers regularly and are finding they recognise the value employing people with disability can contribute to their business. He said rates of absenteeism are less and there is a genuine keenness to work. "There are some real star performers out there."
The ARA was given funding as part of the National Disability Employment Initiative (NDEI) in October 2013. The scheme is intended to deliver an employment program model to assist giving those with disability greater opportunities to find a job in the retail sector.
"Our experience so far from the program shows that when the employer gets the good, enthusiastic candidate who works well they are more inclined to take more of these people on board."
NSW companies who have become involved in the NDEI jobseekers program include Target Weatherill Park, Coles Parramatta, Priceline Westfield Parramatta and Myer Sydney City.  All hosted jobseekers for two weeks by way of work experience giving the job seeker an opportunity to practice learned skills and knowledge from the Certificate 11 Retail Course they had attended this year.
According to Zimmerman all the companies indicated they were keen to support future programs with the ARA Institute. He added that retail employment is predicted to grow 8.9 per cent by 2017 fuelling growth opportunities that include the online sector.
"You will see a diversity of jobs coming through – new jobs that were not there a few years ago or available in limited numbers.  I believe people with disability enhance the diversity of retail business and as an industry we are equipped to meet the challenges of a changing retail environment."
He said the aim of the National Disability Employment Program is to create awareness about a motivated and skilled labour market that includes people with disability.
"I ask retailers to 'think smart' and consider the untapped potential of people with disability."
Given the franchised operations of business at Harvey Norman, there is no formal policy on disability employment, chief operating officer, John Slack-Smith said.
However, informally there is a healthy approach to areas such as support for people with disability who work in the company. "People are employed on an opportunity basis and always have been," he said. "The right person in the right role whether it is someone with disability, a school leaver or the aged, can remain extremely productive and show great leadership and I see that trend continuing."
Slack-Smith recognises that today and tomorrow's workplace requires ongoing flexibility because in the past few years all aspects of business have changed dramatically, particularly when it comes to working hours, location and job sharing. "And for the first time we are seeing five generations in the workforce.  Yesterday's view that at 55 or 65 means retirement is a notion that has been completed discarded."
One employee with disability is Sean Marshall who has just celebrated 10 years working with the Harvey Norman retail operations team four days a week.  "We placed Sean in a professional environment where he engages with people in a role where he carries out thoughtful, constructive and important work for the company. "Initially it was important that he get any support he needed as he settled into the role. As with anyone joining our group it comes down to ensuring the role is a good fit for that person and right for the business," Slack-Smith said.
At Disability Employment Services (DES) getting work for people with disability has become smoother, according to marketing coordinator Sam Cheadle. "We are seeing some of the bigger corporates coming on board who are a now considerably more disability-friendly," Cheadle said. "Typically we target businesses with 20+ employees.  We have 640 people in jobs today and the average retention rate is 6.9 years."  DES which is a federally funded non-government agency has the best outcomes in Australia when it comes to offering these services, he added.
"We look after a special niche group. All our clients have moderate intellectual disability with an IQ less than 60." Clients can work in any industry but typically at entry level, from basic administration, through to cleaning, laundry and hospitality but it needed to be a routine process. "Some people might struggle with a role that involves decision making or problem solving so the role hinges on routine work involving the familiar 'next step'."
Cheadle said it is always a bit of a journey:  "employing people with disability is supposed to be about integration and reflecting the workplace and the communities where they operate."
He acknowledged that  the biggest challenge for DES is getting people to employ someone and there is still some work ahead to get around this. "It's not part of business thinking as people don't consider their workforce as a diverse group of people around gender, culture, disability – it just does not happen. "Basically we need to get business to change the way they employ by asking them to create a role outside what is already identified and this can be a big ask of an employer. People with disability need to be active and involved in the community that is for everyone's growth not just for people with disability."
The majority of employment comes from the school system with some referrals from Centre Link, "but it is mostly from school feeds," Cheadle said.
In a statement to F2L Myer said "employment practices are governed by a number of principles aimed at creating a fair and inclusive work environment that embraces diversity, recognising its contribution to Myer's business success."
Myer said while it has strong policies in relation to diversity within Myer, this is also carried over to suppliers and contractors Myer deals with in the expectation that they will also have diversity policies in regards to employment.
Myer has a partnership with Wallara Industries, a division of Wallara Australia, a not-for-profit support service for adults with disability. The company sorts and repackages security tags used in the Myer recycling program for Checkpoint Systems who manage the program for the retailer. Workers sort, clean, weigh and count the hard tags through the distribution process.
For Australia's oldest department store retailer, David Jones, the overarching company policy of equal opportunity and diversity are all inclusive and cover a spectrum of individual differences. According to a company spokesman these include, but are not limited to, gender, culture, age, religion, disability, sexuality and families. "We have a diverse employee population which is representative of our equally diverse customer base."