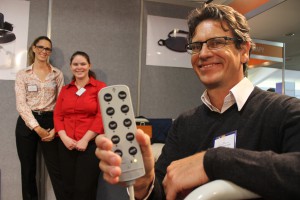 Don't miss the 2014 Daily Living Expo, Australia's largest event for the disability and rehabilitation sectors. The Expo is the place to be to view all the latest products and services with over 100 displays showcasing the latest in assistive technologies, mobility solutions, pressure care, recreation and holiday ideas, modified motor vehicles, employment support and much more.
Be sure to check out the free Clinical Education Program with local and international speakers. There are 30 sessions on a relevant topics including an NDIS update, how Bluetooth connectivity and other mobile devices are changing lives, the positive impact of sport and recreation, practical strategies for those facing sexual challenges and new technologies in powered mobility.
Admission to the expo is free to therapists, the public, end users and ASTA members. This is your chance to meet and greet customers, clients and friends.
The expo will be held at the Exhibition Pavilion, Melbourne Showgrounds, May 14-15.
For more information visit: www.dailylivingexpo.com.au