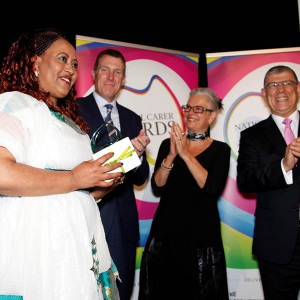 Australian carers were recognised at a special awards lunch in Sydney recently. In the past 12 months, one in eight Australians have cared for a friend or family member, which, on Deloitte Access Economics reckoning, translated to 1.9 million hours caring for their fellow citizens. Speaking at the National Carer Awards, the Minister for Social Services, Christian Porter, acknowledged the substantial contribution by Australians of all ages who are easing the daily lives of others across the country.
The minister said there have been enormous changes in the area of caring from a time when there was almost no assistance from governments. And while the conditions for carers had improved and support services had grown, at times it has been haphazard. "We found that 61 per cent of carers did not seek support services last year where such services existed and were available."
In his early stewardship as Minister for Social Services, there have been two significant and new developments. The first is national Carer Gateway which he described as an initial step in an integrated plan to improve carer support services. "My understanding is that it is working well and is very accessible for users." Designed in conjunction with carers, the online phone service helps carers connect to local support services.
The second concerned the issue of employment. "It is obvious caring impacts work with more than half of all carers, 1.4 million, in the paid workforce. Maintaining employment for those carers who are in the workforce and assisting in the transition to employment for others is going to be a critical issue going forward," he said.
"We are working in partnership with the NSW State Government with initiatives to improve outcomes for carers. One is the concept to help employers break down barriers for those entering the workforce and the other is an app that measures competencies and skills required for training.
"As Minister responsible for the NDIS, I recognise that we will need to double the workforce available to deliver disability service through the NDIS over the next three years. So for those who have had experience in caring there is a massive opportunity to use your skills to find a way to help many Australians make it through the NDIS. In the UK, research has shown that employers who have policies in place to help carers see improved service delivery, cost savings, increased productivity and breaking down barriers of isolation."
The winners were: Mulu Mihreteab – Family Carer Award – Melbourne; Allan Skippen – Foster & Kinship Carer Award – Tamworth NSW and Ellie Moir – Young Carer Award – WA Banksia Grove.
Caption: Family Carer Award winner Mulu Mihreteab, Minister for Social Services Christian Porter, Carers Australia CEO, Ara Cresswell and NSW Minister for Disability Services, John Ajaka.
For more information on support services visit: www.carergateway.gov.au or 1800 4222 737