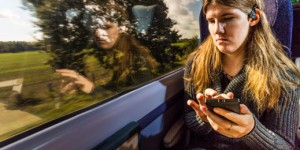 Microsoft has developed a prototype wearable device to assist those with vision loss navigate cities. The device has three main components, a smartphone, bone-conducting headphones and indoor and outdoor beacons, each designed to work together to help guide users around.
The 3D soundscape technology is a collaboration between Microsoft, Guide Dogs UK and mobility experts. The headset can transmit sounds and verbal cues as well as providing information on public transport, shops and other points of interest.  It was critical that the design allowed users to navigate with one hand as the other hand would likely be occupied with a cane or guide dog.
As Microsoft principal researcher, Bill Buxton, explained: "this was an example of universal design that was originally developed to benefit a few but would most likely end up benefiting many."
The concept video also got the attention of Satya Nadella, then executive vice president of Microsoft's Cloud and Enterprise group, and now CEO, who recommended the company take a closer look at the project.
For more information visit: www.microsoft.com/stories