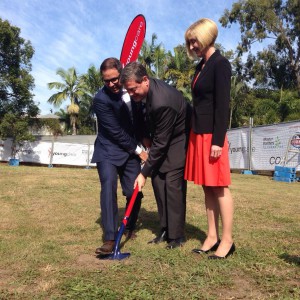 National charity Youngcare has begun building its third share house for young residents with high care needs. Located in the inner Brisbane suburb of Wooloowin the house will be fitted out with state-of-the-art assistive technology including automated doors and blinds, iPad functions for lighting, audio and blinds together with integrated mobile voice-control systems.  The four-bedroom, fully en-suited share house development is due for completion in October.
Said to be a first in setting a new standard for innovation in the care of young people it follows research undertaken by Youngcare with Griffith University as to what young people requiring 24/7 care actually need and want. Wesley Mission Brisbane is continuing its partnership with Youngcare to deliver the care at Wooloowin.
According to the Department of Communities there are more than 900 young people living in Brisbane having an unmet need for supported accommodation.
Caption: Youngcare chairman Nic DeLuca, Queensland Treasurer Tim Nicholls and Minister for Communities, Child Safety and Disability Services, Tracy Davis, launching the Queensland project.
For more information visit: www.youncare.com.au/