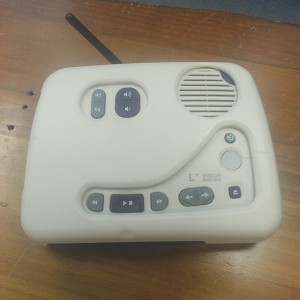 DAISY players for vision impaired get major upgrade for accessing library content without an internet connection.  The latest version of the innovative device works like the DAISY CD player but now users don't have to wait for the CD in the mail and can hear news on the day it is published. DAISY (Digital Accessible Information System) gives access to newspapers, magazines and podcasts to those with vision impairment who don't have a computer or internet connection.
There is nothing like DAISY on the market, Vision Australia online training support manager, Jamie Kelly, told F2L.  "DAISY is simple to use and once it starts playing users can easily navigate to newspaper articles and book chapters. It is designed for people who are not likely to ever own a computer and this tends to be the older age group." Users can also choose how they want the content to be downloaded – onto DVDs, CDs, MP3 players or mobile phones.  It was on display at the Vision Australia Texpo event held in Sydney and Melbourne recently.
The device uses 3G to connect directly to Vision Australia's i-access online library and costs $12 a month to rent. For those with poor 3G connection, there is a player available that connects to Wi-Fi.
DAISY is manufactured in Japan with modifications to the device carried out locally.
For more information visit: www.visionaustralia.org  or 1800 005 965