Immersion Therapy, developed by Adelaide based service provider Determined2, is delivering significant benefits to people with disability, and has taken out the 2019 South Australian Telstra Business Award for Social Change Maker.
Immersion Therapy, which founder Peter Wilson described as the only service of its kind in the world, uses scuba equipment in a pool to give freedom of movement to people with a range of injuries. These can include people living with complex acquired injuries, people living with autism and other intellectual disabilities or neurological disabilities like MS, stroke, cerebral palsy and epilepsy.
"The reality is that we see some people walk underwater who cannot walk on land and people on the autism spectrum who are non-verbal who will start talking," Wilson told F2L. "We have people from interstate and overseas coming here for the exercise and experience."
These benefits are being researched in partnership with the University of South Australia (UniSA). The first stage of the research has been completed and a cohort trial is being set up to test the benefits of immersion therapy, with increased energy use during the sessions already being observed in early trials. The company is also working with doctors at the Royal Adelaide Hospital. "South Australia has some of the leading specialists in underwater medicine who have created a new set of medical standards, which are world firsts, that allows participation of this therapy to people, for example, with epilepsy or with high level cerebral palsy. The process for us is that anyone can apply as this person-centered service is as inclusive as it can possibly be," he said.
Currently around 170 people a month access the service which is located at the Adelaide Aquatic Centre. Each participant receives a specific and tailored session for their individual needs and about 90 per cent of participants are funded either through the NDIS, Work Cover (RTWSA) or other insurance schemes.
The service can be delivered in any pool environment as long as it meets the technical requirements when it comes to training and site accessibility.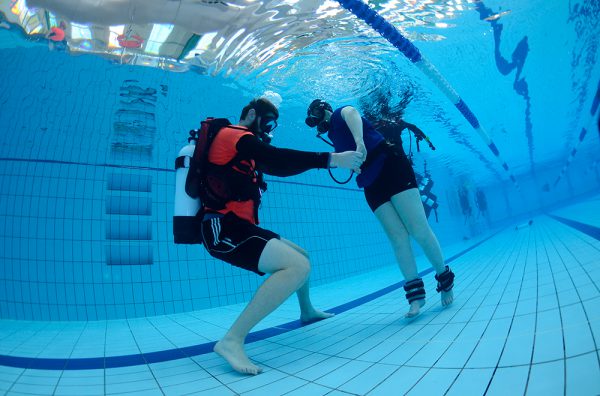 Determined2 employs eight staff and the majority live with a disability. One lives with cerebral palsy, another has a complete spinal cord injury and another is a former Paralympian, who is trained to take people into the pool: "Which is great for people living with a disability to have someone also with a disability in the pool with them," Wilson said.
"Immersion Therapy which is the brand name of what we do is now registered in Australia the US and the EU and my intention is ultimately to deliver it to the world."
After suffering a serious injury Wilson recognised a gap in the market and started Determined2 and developed Immersion Therapy that, from day one, was intended to be "repeatable, scalable and trainable."
For more details and videos go to: www.determined2.com.au
Comment below to have your say on this story.
If you have a news story or tip-off, get in touch with Freedom2live's managing online editor Kymberly Martin at [email protected] 
Sign up to Freedom2Live's newsletter.