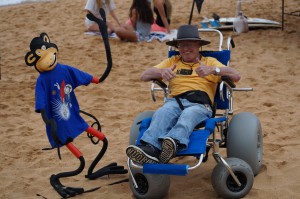 Local councils are wasting money trying to improve beach access for people with disabilities. Why? Because they fail to talk to people with expert knowledge beforehand, according to Disabled Surfers Association (DSA) president, Gary Blaschke.
He claims well-meaning councils sometimes went ahead and installed ramps or beach matting but they often chose the wrong beaches or used the wrong products because they did not seek advice from groups like DSA first.
Blaschke said surfers with disability did not seek out the most popular surfing beaches with the best waves. Instead they looked for beaches with small waves, plentiful car parking and disabled toilets, ramps and beach wheelchairs where they did not inconvenience other surfers.
Recently Lake Macquarie City Council announced it had received $35,000 funding for beach matting at Caves Beach as part of the NSW government's Liveable Communities Program. (See news story this issue).
Blaschke praised the council and state government for wanting to improve beach access for people with disabilities but in his opinion Caves Beach was not a good choice. "I don't think Caves Beach is the right beach. It's very high impact, where the waves are strong. It isn't a beach you can go for a stroll along the sand. There's only one disabled toilet, limited parking and they have nippers there on Sunday so it's absolutely chock-a-block. If you get there late you're parking a kilometre away and for a person in a wheelchair it's just not on.
"Beach matting is a very expensive material. I really think there needs to be a bit of a moratorium on this. Local councils are going off and doing their thing. Some beaches are not conducive to beach matting. It's a fabulous idea if it's thought out in the first place and is put on an appropriate beach."
And it isn't just about choosing the wrong beaches, sometimes the adaptations designed to get people onto the beach in the first place were badly thought out. Some ramps conformed to Australian standards but the gradient was wrong and they did not include features such as an area for wheelchair users to rest, he said.
"Councils build things without understanding the standards. A disability access ramp is a minimum of a one in four gradient. It's so important to get the gradients right because you can build something that may not be accessible."
He gave the extreme example of a long, steep zigzagging path on South Australia's Phillip Island, where an able-bodied person would struggle to push somebody in a wheelchair back up the path and a solo wheelchair user would be stuck on the beach, unable to get back up.
Blaschke cited Lakes Beach on the Central Coast as an example of the kind of beaches that should be chosen and the infrastructure that needed to be supplied.
"We chose it not because it's the best beach in the world but because it has the world's best disabled access ramp and 360 car parking spaces. If you're going to say this is the beach for people with mobility or disability issues they have to be able to park there.
"Most beaches, Bondi for example, you've got limited parking or you've got to pay for it. There are issues that have to be looked at."
Lakes Beach also has a drop-off area for cars, a cordoned off safety zone and tactiles on objects like handrails for the visually impaired. He also singled out Collaroy Beach and Warringah Council in Sydney for praise. The DSA held a huge surfing carnival on Collaroy Beach recently which attracted 159 people with disabilities and 345 volunteers. "At Collaroy there is a pool with a ramp, several disabled toilets and the waves are very small."
According to Blaschke councils and government at all levels needed to consider a myriad of factors when they wanted to open up beaches and to speak not only to people with disabilities but organisations who worked with getting people with disabilities onto the beach.
"Just because you're in a wheelchair and just because you sit on an access committee it doesn't mean you understand what's needed in a beach environment. It's DSA's thirtieth year taking people to the beach," he said.
Surf lifesavers should have specific training in dealing with people with disabilities and disabled toilets should be locked so they are not vandalised.
"I'm happy to speak to councils and to possibly write reports for them but 90 per cent say that's not in their budget for the year".
He believes a national or state-wide strategy is needed to ensure a practical approach, where money is not wasted, to opening up beaches to every Australian, as well as to people with disability and elderly visitors. It's a strategy which he feels has massive potential, economically and socially.
"Unless we do it together and get it right we're going to end up creating problems for those with disability getting hit by a huge wave and being hurt. Australia should be leading the charge across all levels of government. About 32 per cent of the population [taking into account anyone with a disability and the elderly] in most cases can't get access to the beach. It really is becoming a big issue."
DSA is staff totally by volunteers and receives no government funding.
This article first appeared in Government News