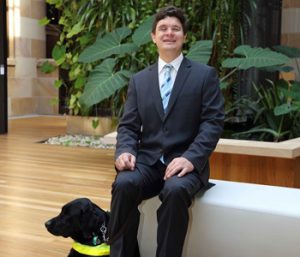 There is strong urgency for evidence based reform around the legal definition of disability assistance animals. This was one of the key findings to emerge from a Disability Assistance Animals or Not? Problems in Policy and Practice Workshop held at the Queensland Supreme Court on September 27.
The aim of the workshop was twofold:  To articulate the problems with the legal definition of disability assistance animal in anti-discrimination laws; and to consider how collaborations between industry, government, the disability community and academia can be forged to help develop operational,  policy, training and regulatory measures to improve outcomes.
The current regulatory approach to defining disability assistance animals has resulted in questions that law, policy and theory are struggling to answer, such as:
How should animals, whether these are dogs, cats, miniature horses, birds or others, have their suitability as assistance animals determined and regulated?
Who should be qualified to train and accredit disability assistance animals?
Should there be legal limitations on what impairment categories or which individuals can use disability assistance animals?
How can policies and regulations prevent pets being 'passed off' as disability assistance animals?
The workshop was organised by University of Queensland law researcher and lecturer, Dr Paul Harpur (pictured). A former Paralympian, he was blinded in an accident at age 14.
He told F2L, there were challenges to overcome when it comes to assistance animals and it is an issue most western countries are grappling with. "What constitutes a disability assistance animal is a minefield for employers, transport providers, tourism and hospitality industries, body corporates and nursing homes."
He said while some state and territory laws in Australia limit protection to dogs, the Federal Discrimination Act (1992) extends protection to all animals including cats, birds, rats or any other animal that can satisfy the other requirement in the Act.
"The level of training required for these animals has been substantially reduced and there is no requirement for accreditation at the federal level.  The law needs to resolve what is protected and can be demanded, and what is optional, such as someone wanting to bring their hamster to work."
He said Australia has work to do in managing the health and safety issues of animals in public spaces.
In summary, the Discussion Paper will be used to motivate public debate, gather additional data and help develop a research and reform agenda. Qualitative data drawn from the workshop will provide a map to where the disability assistance animal reform agenda should focus.
The workshop was attended by leading disability dog training organisations and Queensland, New South Wales, Victorian and Western Australian government representatives.
To access the full document go to: http://espace.library.uq.edu.au/view/UG:409735  or https://law.uq.edu.au/profile/1110/paul-harpur