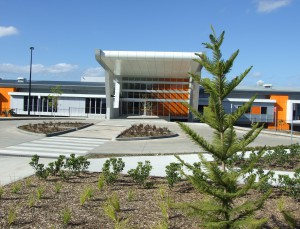 Freedom2Live visits the Royal Rehabilitation Centre, at Ryde in Sydney.  Our verdict: impressive. The centre is quite a departure from the traditional hospital design with an emphasis on being part of the community.
Spread over nearly three acres it has a main wing housing patient accommodation, consulting rooms, brain and spinal injury units, a gym and café. Outside are tennis and basketball courts plus a mobility skills area as well as a community hall with a 60-place childcare centre underneath and a hydrotherapy pool.  Overlooking the large landscaped gardens are 16 self-contained units for long term disability patients. All indoor areas are open and accessible and make use of natural light and outlook to courtyards or landscaped gardens.
It is the biggest rehabilitation centre in the country when you include all the facilities and sporting space, said community relations manager, Jim Towers.  "It is still a work in progress offering both public and private rooms and there is room to grow."
The centre offers people with a disability or impairment caused by trauma, accident or illness special rehabilitation services with the centre looking after up to 200 residents and community patients, cared for by 180 nursing staff delivering 24/7 care with around 400 full time staff.
The brain and spinal injury units each offer inpatient rehabilitation programs. The 24-bed private hospital provides tailored programs for stroke, neurological, orthopaedic, post spinal surgery, reconditioning and general rehabilitation. There is long and short term accommodation for people with acquired, developmental and other degenerative neurological disabilities and a driving assessment centre to promote driving independence.  An outpatient department provides a range of services with individual and group therapy programs for people living in Northern Sydney.   A rehab service operates across Northern Sydney and the Central Sydney regions to clients in their home.
The mobility skills area has been designed for wheelchair users and those who need to adjust to new walking techniques. The area features various inclinations, different sized steps and surfaces and various pathway widths to accommodate wheelchairs. "This forms a significant part of the rehabilitation process," Towers says.
The long-term disability units are for people with higher dependency who cannot be transferred to a community home. Towers says these are the only model of this type in the country. "Each has its own balcony and tea making facilities so users can entertain and care for themselves. It helps to build a sense of independence."  Clients have access to all facilities.
The centre is very much a community project, with the café, child minding centre and sporting facilities are all accessible to locals. It gets its official opening on February 19, 2014.