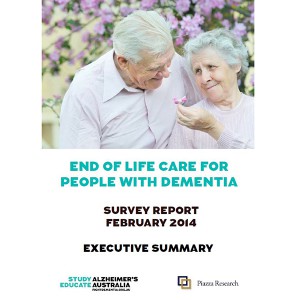 A new report has identified a number of barriers to quality end-of-life care for people with dementia.  The report, End-of-Life Care for People with Dementia, claimed there is a wide gap between the perceptions of care professionals and carers of people with dementia when it comes to better end-of-life care.  This includes lack of advance care plans, poor understanding of legal options, inadequate pain management and lack of access to hospices, palliative care specialists or community palliative support.
According to the national president of Alzheimer's Australia, Ita Buttrose, in contrast to the views of family carers, three quarters of the care professionals surveyed believed people with dementia do have access to palliative care services. "In many cases care professionals are unsure of what the legal options are for people with dementia at the end-of-life.  Nearly a third are not aware that people have a legal right to refuse food and artificial hydration."
The majority of family carers, 60 per cent, reported that the person with dementia they cared for did not have an advance care plan or were unsure if they did. Of those who did have an advance care plan, only 34 per cent has prepared a plan before or shortly after diagnosis.
Advance care planning is a useful tool to help people document their end of life wishes, said the president of Palliative Care Australia, Professor Patsy Yates. "We need to ensure all health professionals and consumers are provided with information around advance care planning and consistent advance care planning legislation and terminology would go a long way to reducing this uncertainty."
In an attempt to address some of these issues, Alzheimer's Australia has launched a website: www.start2talk.org.au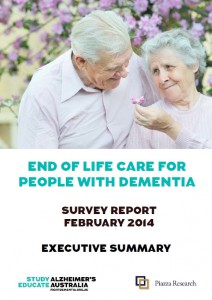 For details on the survey go to: www.fightdementia.org.au