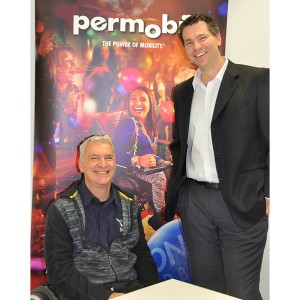 Permobil has strengthened its position in the market following the purchase of Seating Dynamics Ltd (SDL). SDL co-owner Malcolm Turnbull told F2L the benefits to come from this strategic acquisition was twofold. "With two market leaders in Permobil and SDL combining their resources it will give greater strength to delivering products and support to the end user. If you look back, SDL has always been an independent supplier with ROHO, TiLite and other brands. Permobil is recognised as a market leader in the powered wheelchair category so the combination of the two companies will give them a larger presence in the Australian market."
Turnbull said one major advantage from the acquisition will be the financial and other resources Permobil brings. "Investments into and working on new product developments at manufacturing plants will flow through to the Australian end users. We will also see within Australia a greater resource capability to provide end users with products to support requirement for trials and assessment." Turnbull, who takes on a two year role as senior advisor and ambassador at Permobil, said response from the industry has been overwhelmingly positive.
SDL has been a leading distributor for pressure care, mobility and positioning solutions in Australia since 1997.
For Permobil, the acquisition marks the next important step in its strategy to provide innovative rehabilitation solutions for people with disability. President of Permobil North America, Larry Jackson said Permobil was dedicated to building a leading healthcare company providing advanced rehabilitation technology. "The combination with Permobil will allow us to better serve the needs of end users in the Australian disability market," he said.
Managing director of Permobil Australia, Owen Dawes, said the acquisition of SDL will accelerate growth plans in the advanced rehabilitation market in  Australia. "We are growing our service offerings to end users, therapists and dealers. Coupled with the experience and capabilities of the SDL staff this will see us increase our reach rapidly."
Permobil was founded in Sweden in 1967 and manufactures power wheelchairs, advanced manual wheelchairs, seating and positioning products that are sold across 65 countries.
Caption: Malcolm Turnbull and Owen Dawes