This new technology-enabled facility for those with complex intellectual disability, has opened in Melbourne. Developed by St John of God, with technology partner HomeStay Care, it claims to set a new standard in the use of technology providing controlled independence for people living with autism, non-verbal learning disability and Down syndrome.
St John of God Health Care group director, Kevin Taylor said the home set a new accommodation standard for people with intellectual disability.
"The house creates safe spaces inside and outside, incorporating assistive technology (AT) that enables the use of infrastructure to assist residents long-term needs."
The technology in the house has been designed in collaboration with occupational therapists, and is controlled by HomeStay's assisted-living Caring Intelligent Home platform, a system of discrete sensors, an emergency hub, personal alarms and apps to enable greater independence and decision making for residents to go about their daily activities.
Carers use a 'carers companion' dashboard to centrally manage activity, support and meal plans, monitor key information and wellness indicators, receive alerts if activity varies from regular routine or in emergencies and coordinate care processes.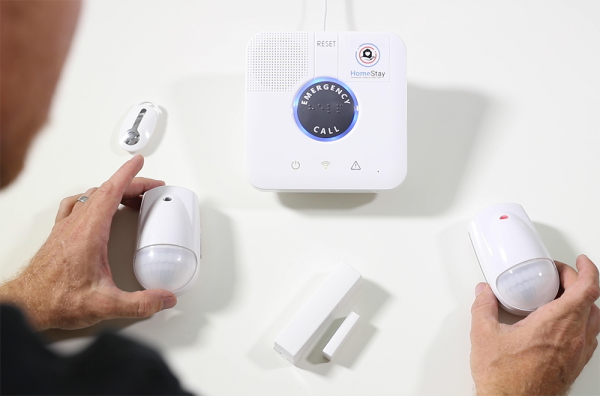 Residents use the 'MyDay' app to manage their day with greater independence in line with their abilities by promoting decision making, mental stimulation and offering different methods of communication. It helps predict anxiety or anger attacks before they happen or provide alerts if certain activities occur, so interaction can happen. It also provides residents with reminders for basic tasks instead of relying on carers to tell them, granting more autonomy.
Visual elements include graphic-based menus to show residents what is happening during their day, their meals, and introduce their carer for the day and on call. Voice control through Alexa offers residents assistance with common routines such as waking up, lighting, blind and door control and playing calming music.
Other technology includes smart watches, radio frequency identification (RFID) and facial recognition access control, carer safety, virtual reality goggles and mood lighting.
The effectiveness of the technology and house design will be independently assessed by Deakin University to help with future housing with plans underway to build 10 duplex homes across five sites in Melbourne.
Comment below to have your say on this story.
If you have a news story or tip-off, get in touch with Freedom2live's managing online editor Kymberly Martin at kymberly@intermedia.com.au 
Sign up to Freedom2Live's newsletter.