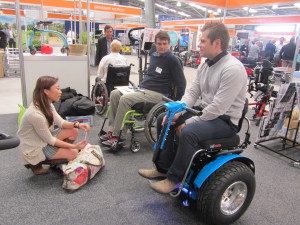 Mobility equipment sporting eye-popping features took centre stage at the Daily Living Expo in Melbourne. Every imaginable style that offered a myriad of options were on show, designed to deliver more independence and freedom for both indoor and outdoor use.
Freedom2Live did the circuit and found that less is more when it comes to mobility solutions.
Creating interest on the Dejay stand was the Smik Sun Dancer a "first in Australia" 2 wheel gyro balanced personal transporter that can take the driver on and off the bush track. Another attention grabber was the Veloce, dubbed the lightest folding wheelchair in the world with a total weight starting at 8.0kg and a transport weight of 5.1kg. More innovation in folding wheelchair technology came from the aptly named Throne, which requires no dismantling just the press of a button to fold away.
The versatile new Laser Sport BTX from Push Mobility converts easily to beach or all-terrain mode and with its snappy looking X-Trailer gives an extra set of wheels for toting beach wheels or luggage when travelling. There was a lot of focus on bariatric products at the expo and the rugged Jazzy 1450 from Pride Mobility with its front-wheel drive power base and weight capacity of 600lbs fits the bill for high performance operation.
For active wheelchair drivers not using an add-on drive, the new Alber twion push rim drive gives maximum mobility and great action radius for everyday and demanding leisure activities.  It is connected via a smartphone that communicates with the twion using Bluetooth to transmit driving information.
For transport of a different kind, the Country Care Group introduced the Shifty Transfer Assist Trolley for safely moving from a chair, sofa wheelchair or lavatory. With a small frame the trolley can easily access narrow spaces.
Another market on the move is the modified vehicles category. The changing shape of this transportation solution has quite literally opened doors for people with disability to pursue interests outside the home. Nowhere was this more evident than at the Automobility display with the launch of the Proton Exora for people wanting a smaller vehicle. A huge range of conversion options was also on show from Freedom Motors while new exhibitor, Byron Group, offered modifications for the commercial, healthcare and education sectors.
It might be small, but a product category of importance is clothing. Firstly, clothes have to be easy put on and take off, be comfortable to wear without buttons or fasteners to irritate sensitive skin and made with soft fabrics. Lastly, clothes should look attractive and fashionable.  Exhibitors including Hemmingway, DressEasy and Petal Back introduced a wide range of appropriate clothing designed to meet the special requirements of children and adults.
No expo report would be complete without 'something different' and Living Strength had the Inimove – a fun and exercise tool for all age groups. Comprising smooth lacquered beech discs that can be tailored to individual needs, these assist with restoring coordination and strengthening muscles and joints in the hand.  For children or seniors with sensitive skin, the Bidet Shop, had the Hyundai shower head with silver impregnated foam delivering a non-chemical wash to reduce bacteria associated with skin problems.  Gardeners were not forgotten either with the Green Smart self-watering pots offering those with limited space and strength the opportunity to create their own gardening solution with minimal effort.