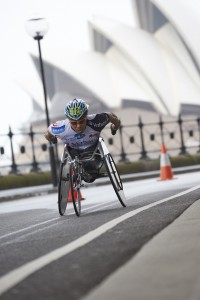 Japanese Paralympian Kota Hokinoue takes out the GIO Oz Day 10k title. Hokinoue led the race from the start and was never challenged leaving the second and third place getters to finish with one second between them.
Australian champion Kurt Fearnley finished in sixth place for his 20th appearance in what was an attempt to win a record 10 championships. Australian Christie Dawes came second in the Open Women's while Luke Bailey won the under 18s Junior's championship. The winner in the Master's category was Ernst Van Dyk from South Africa. The event attracted 45 entrants to the starting line.
Now in its 26th year the race is the highest profile wheelchair sporting event held in Australia.