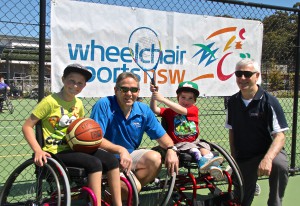 Wheelchair Sports NSW has partnered with Invacare to encourage more sport participation for those with disability. Invacare, manufacturers of mobility and homecare products will donate a percentage from every wheelchair sold to assist in broadening the range of sporting activities to people in the community with disability.  The three-year Grassroots Program was launched at a 'Come and Try' day at Sydney's Royal Rehab training facility.
Speaking at the event, Invacare managing director, Geoff Purtill, said there were many barriers, both real and perceived, for people with disability to engage in sport, not least access to sports equipment such as chairs designed for various activities. "Our support of this program is intended to help ensure anyone can have a go and find their sporting passion." Invacare sponsors para athletes including Kurt Fearnley and Rheed McCracken.
Wheelchair Sports NSW CEO Jim O'Brien said it was well documented that sport participation is vital for the health, self-esteem, physical and mental well-being of people with disability.
"The new friendships, experiences and capacity to actually develop in a competitive sport brings so many benefits not only to the individual, but to the whole community."
Caption: Joining Invacare MD, Geoff Purtill and Wheelchair Sports NSW CEO, Jim O'Brien were wheelchair sports enthusiasts Krystal Rothery and Cormack Ryan.