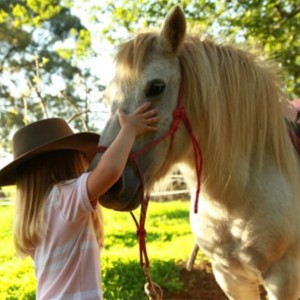 A learning program that involves interaction with horses is holding a professional development day. The 'hands-on' Horse Assistant Learning Programs offers a unique platform that involves a team of learning specialists working with counsellors, health professionals and life coaches to address specific learning outcomes including life skills, problem solving and goal setting.
It is open to interested groups including disability services, special needs organisations and carers. The program does not involve horse riding as all activities take place on the ground so no horse experience is necessary for participants.
Program organiser Dave Hollier said the program is an effective mode of congenital behaviour therapy and programs can be tailored for individuals of all ages. All programs are conducted to the international Equine Assisted Growth and Learning Association model and other appropriate professionals, depending on the particular program. It offers one-day workshops through to six or 12-week programs with regular sessions. "It provides a non-threatening environment to examine behaviour and interactions using a novel and engaging approach," Hollier said. The program will be expanded to other NSW regional areas in 2016, including Moss Vale, Hawkesbury and Thirlmere.
The development day will be held on December 3, at the Camden Bicentennial Equestrian Park.
For more information visit: bushbred@gmail.com or PH: 0418 761 340