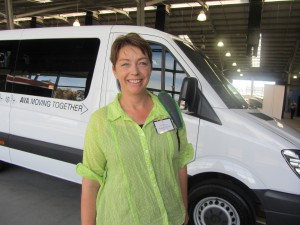 Freedom2Live spoke to visitors and suppliers at the Daily Living Expo.
Alison Coster – Occupational Therapist: "It was great to see all the products in one place. I need to be aware of what is out there to assist me with meeting the needs of my clients. It is very important for me to speak to suppliers especially if I have a problem. For example I have a client with muscular dystrophy who has limited movement and needs to rest frequently during the day and recline his chair to sleep. But when his power wheelchair was in the recline position he was unable to reach the button to adjust the seat so the power saver would cut out. After a two-minute conversation with the supplier I found that it is possible to turn off the power saver. So a simple solution that means the patient no longer needs to get someone to help him with his chair. I attended many of the seminars which helped to refresh information about seating and wheelchairs. I was impressed by the advances in technology that are supporting people to gain more independence. Also, the huge changes in transport options now available. Overall it was a great event."
Chris Sparks – ATSA: "I thought the expo worked brilliantly especially for those in wheelchairs as there was plenty of space to move around. Historically stands were cluttered but exhibitors this year tended to have less stock and the display areas were more open and welcoming."
Olivia Woodruff – Pride Mobility: "This was our first show and the feedback from clients was positive. We had a very good response to the seminars with the OTs and health professionals asking questions before and after each session."
Shane Hryhorec – Push Mobility: "We were extremely happy with the expo but would have liked a bit more traffic. However we did get to speak to a lot of people on both days and overall the event was beneficial."
Owen Dawes – Permobil:  "A lot bigger and professional than previous shows. The stand was busy most of the time. I thought the expo was on par with international trade shows as it had more space and a brighter atmosphere. We had useful follow ups from visitors to the stand. It was a good event for us."
John Higgins – The Rehabilitation Centre:  "The expo was a great success for us with new dealer applications and a good level of response from therapists, although there was not much in the way of public participation."
F2L sought comment from Simon Cooper at Interpoint Events who said traditionally this event has been for the trade. "This year we took the first steps to broadening the reach of the expo to include allied health professionals, carers, people in the community with disability and the elderly with mobility issues," he said.