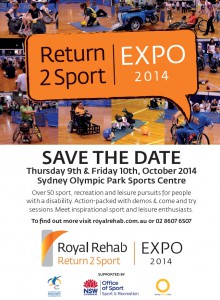 Explore all that's new in disability sports, recreation and leisure at the Return2Sport Expo.
Over 50 organisations will converge at the Sydney Olympic Park Sports Centre on October 9-10 where there will be demonstrations in tennis and wheelchair sports, golf and winter sports as well as new activities such as rock climbing and wheelchair road racing.
Not only can visitors find out about the 'grass-roots' sporting activities and social networks these provide, they can also 'have a go' by trying them out, said Royal Rehab CEO, Stephen Lowndes.
The Return2Sport concept was developed in close alliance with the Royal Rehab recreation and therapy department. It focuses on the benefits of sport and recreation for enriching the lifestyles for people with disability. "Our aim is to promote a culture of inclusion amongst sport, recreation and leisure providers," Lowndes told F2L.
This year's ambassadors embody what Return2Sport is all about from 9-year old Harry Clist who discovered a passion for wheelchair rugby at the 2012 expo while for Steve Knott it was rowing that helped him recover from a traumatic brain injury. Other ambassadors attending the expo include wheelchair rugby player with the GIO NSW Gladiators Richard Vois and wheelchair road racing enthusiast, Stu Hume.
There are many benefits to be had by getting involved in disability sports and recreation, including improved mental and physical health, increased rates of employment and access to education. This is in addition to being more likely to be connected to community and experience a better quality of life than those who are not engaged in these social activities.
For more information visit: http://www.royalrehab.com.au/Return2Sport.html