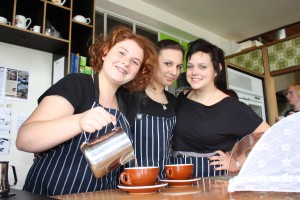 Applications are open for the 2014 DCA Youth Grants Program. Young people who are deaf or hard-of-hearing aged between 15-21 years can apply to receive a grant of up to $2500 to help them achieve a personal goal or project.  The program was established in 2000 and is designed to inspire deaf people to fulfil their potential in projects that reflect benefits for the community.
Last year's winner, Lauren Fox, made a short film with four friends to build understanding within their school where they found that initially there were a lot of misconceptions about deafness which made it difficult to become involved in school life.  The film, 'Deaf not Different' has been shown around the world, and since its release there have been many changes made at the girl's school to better support deaf students. Grant applications close on April 30, 2014.
Pictured: Youth Grant recipients Stephanie O'Hanlon, Janette Emini and Vanessa Ravlich learning hospitality skills at the Victorian College for the Deaf Tradeblock Café.
Projects can be based on:
Personal developments
Deaf community and culture
Leadership challenges
Education
Representing local, state or national teams
Life experience
For details visit: www.deafchildrenaustralia.org.au/