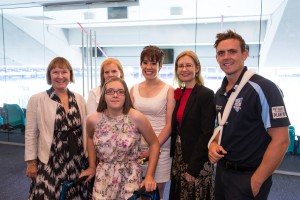 Almost $180,000 was raised at the Northcott annual Cricket Legends lunch held at the Sydney Cricket Ground recently.  More than 430 guests attended and mingling with the crowd were cricket greats Mike Whitney and Barry Knight along with current player Trent Copeland.
Cricket commentator, Mike Coward was MC on the day and also joining in to bat for the event was NSW Sport and Recreation Minister, Gabrielle Upton. The event helps to raise funds for people with disabilities to take part in recreation activities including athletics and swimming carnivals.
Northcott CEO, Kerry Stubbs, said more than $1 million has been raised over the 18 years the lunch has been held.