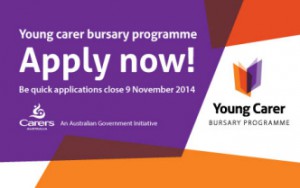 Young carers can apply now for financial support to help with their education or training. The program is open to carers aged from 12-25 years who are assisting families with an illness, disability, mental health issue, alcohol or drug problem or who are frail-aged.
150 bursaries will be granted for each year in 2015, 2016 and 2017 in $4000, $6000 and $10,000 amounts. Bursaries will be granted for 12 months with a new application process to be held each year.  Bursary money can be spent on education costs at school, university or training, or on respite support, accommodation and transport.
The deadline for applications is Sunday, November 9.
For more information visit: http://www.youngcarers.net.au/  or phone: 1800 756 238